Accommodation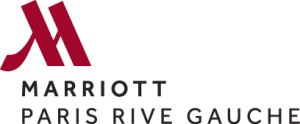 Participants may book hotel accommodation at The Paris Marriott Rive Gauche Hotel & Conference Center (congress venue) at special COGI Congress rates. Reservations can be made directly with the hotel via the reservation link.

Warning: The COGI congress cannot validate hotel reservations via sources other than those presented on the official COGI website. It is important to be aware that you may be contacted by phone, fax, or email by third party companies that act as travel agencies, wholesalers or destination management companies to solicit you with aggressive or deceptive tactics for room reservations. Room poachers and pirates may also misrepresent themselves as the official congress housing bureau and may illegally use the congress name or logo. 
COGI cannot be held responsible for any losses incurring as a result of bookings made through unofficial websites. Should you be contacted by, or find such an operation online, we kindly ask you to inform us as soon as possible.
CONDITIONS
Breakfast is included in the room rate.
Check-in time is 15:00 (3pm) and Check-out time is 12:00 – midday (12pm).
Maximum occupancy in the room is 2 guests.
Please note that no rollaway beds are permitted in the room.
One crib is permitted in the room for one infant age 3 or less.
POLICIES
Tax Policy
This room rate does not include City tax, which will be charged upon check out, at the price of 2.88€ per person per night.
These taxes are subject to change according to changes in fiscal legislations in France or municipal regulations, the prices will be amended to reflect the applicable VAT & taxes at the time of service.
Net of VAT rates would remain unchanged and continue to be the base for calculations of the applicable gross rate, all taxes included.
Cancellation Policy
Before the 21st of September 2019, any partial or total cancellation will be free of charge.
After the 21st of September 2019 in case of partial or total cancelation a full stay deposit will be taken for any reservation made before or after this date.